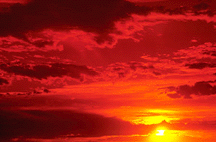 Stories and Inspirations

September 2016 - I facilitate the Prayer Shawl Ministry at the Newman Center in Chapel
Hill, NC. We seem to have acquired the nickname "Newman's Knitting Ninjas"
because there are times when that's exactly what we do -- knit like
ninjas to meet the needs of the community. Throughout the year we make
prayer squares for the students when they go on Alternative Spring Break
trips and when they attend retreats. These prayer squares signify and
remind the recipient that the people of Newman are praying for them on
their journey of faith.
Besides providing prayer shawls and prayer squares for our friends,
family, and the parishioners of Newman, we support a group we have
affectionately named Missionaries for Marcos. This is a group of folks
who come from all over the Catholic diocese of Raleigh and travel down
to Honduras each year to help Padre Marcos. Padre spent a couple of
years with us at Newman until his family needed him back in Honduras. He
is a humble and saintly man who ministers to the members of several
parishes in the mountains of Honduras. We have held a fund-raiser for two
years now (we do not sell prayer shawls but other hand-crafted items
along with baked goods) in support of those who travel down to Honduras
each year to help Padre This group of generous people are self-funded.
Any money they raise goes toward medical supplies and other items Padre
needs to make life just a bit better for those he serves. We give them
prayer squares also.
This year one of our younger members found a pattern for a mini prayer
square and managed to crochet over 50 of them to send with the
missionaries to give to the patients they see in the clinics. They are
sent with the prayers of the people of our parish. Our ministry is
merely an instrument of God's love and peace.
I would like to share an email I received from Lori, one of the folks
from our parish at the Newman Center in Chapel Hill, NC, who travels to
Honduras where she helps provide medical care at the clinics this group
holds while they are there.
"I wanted to write to thank you and the other prayer shawl ministers for
your support of the mission team and the prayer squares. If you'll
permit me, I have a story to share.
On the second day of the clinic, the first patient I had was an elderly
woman in a wheelchair. She had one leg amputated above the knee and was
asking for help because she had almost no feeling in her other leg, due
to diabetes. We had some medicine that would help a little, but frankly,
there was not much to be offered. My "translator," Fr. Mike, offered her
a prayer square, which brought a big smile to her face when she heard
that ladies in the US were praying for her. I asked if she was Catholic
and she said she was, so I asked her if she would like to receive the
Sacrament of the Sick. When she said she would, Fr. Mike anointed her
with oil, blessed her, and prayed over her. During the Our Father she
wept, holding tight to her Carolina blue prayer square. When she turned
her wheelchair to leave, she told us that she would pray for us, and
waved goodbye with her prayer square.
Medicine is an intimate endeavor sometimes, but when faith and work
blend so perfectly, I feel especially connected to God. Thank you all
for sending us forth with your beautiful gifts. You each are a treasure
to our Newman Community."
This is just such a heart-warming story that I really wanted to share.
Christine Meyer
Facilitator - Newman's Knitting Ninjas (aka - The Prayer Shawl Ministry at Newman)

I knit the "gentle waves" from the book The New Prayer Shawl Companion, for a friend
who just lost her child this summer. I thought you might like to hear the
note I sent with the shawl for her, because I do think the method of
creation of the shawl has so many good meanings that are metaphors for grief.
Sincerely,
Heather F.
I wanted to say in the note I sent with the shawl, but didn't because I
wasn't sure how to say it… I'd like to tell you a little about the shawl and
how it's made. Typically, when you knit a shawl or wrap (and this one is
meant to be sort-of a rectangle vs. a triangle), you start at the top or the
bottom and knit it up or down so when you take it off the needles, it's
essentially mostly finished except for maybe putting on a tassel or
stretching out the piece so you can really see the lace work or the like. I
found the pattern for your shawl, saw it was rectangle-style, got the yarn
and sat down to knit and it said, "Cast stitches onto a circular needle, join
and begin pattern." I had to read it about four times to make sense of
what it was asking for … instead of knitting from the bottom or top, the
pattern is essentially knit side-to-side. And you knit it in a big circle, instead
of shuffling the stitches back and forth like a typewriter. I had a moment
of panic (that sort-of carried through for the next 6 weeks as I kept making
the shawl…) because I realized that if the shawl was knit in a circle and
when finished it was a rectangle, that means that at some point, you
have to cut the circle in half.
To any knitter, this is terrifying. You buy precious yarn that is perfect for
your project, you spend weeks carefully creating your item and then…
you take a pair of scissors, chop up the work, and let pieces of it unravel,
hoping that you don't destroy the entire piece when you do it.
If I had known what was as ahead of me when I was at the knitting store, I
would have chosen something else. But, in the Lord's infinite wisdom,
there was not another pattern in the book that I could knit with the type
and amount of yarn I had bought. So I did it, and then when I finished the
knitting, I sat there with the finished piece and said a lot of prayers. I sent
Jeremy and Elli [my husband and daughter] out of the house, and got out
the scissors and cut.
The way the pattern works, you then pull at each of the strands you cut,
and let it unravel until you get to a certain point in the pattern, then
gather a few strands together, and knot it into a fringe. So I pulled at
each strand, and watched in horror as all that knitting slipped from a
smooth pattern into single strands of yarn. I did it again, and again, and
again and when I finally had 4 strands, I tied them into a knot as fast as I
could, because I had this totally irrational belief that if I didn't tie them
RIGHT THEN, they were going to somehow unravel more or spontaneously
combust or something… I'm not sure what I was thinking. I was definitely
operating out of fear, because the last thing I wanted to do after all
you've been through is to screw up the shawl I had knit for you.
Somewhere around the second side of the fringe creation, I realized that
the pattern had a natural "backstop" to the unraveling. And while I could
pull too hard and make things go awry, there was a bit of a built-in safety
net. The shawl was not going to spontaneously unravel into a pile of yarn
that looked like ramen noodles like it did in my nightmare about cutting
the shawl. I also had the thought that sometimes when things in life are
unraveling faster than we want them to, tying a knot and holding tight is
probably the best course of action.
I really don't know anything about how anyone walks through the grief of
losing a child. I'm guessing that if feels like you've been cut in two and
that it feels like you're in the middle of everything unraveling. And I just
want you to know that I am praying and praying that you are finding a
way to tie a knot in the unraveling threads and a way to hold on, even
when it seems like your world is breaking. And I'm praying and praying
that if you need a backstop to all that unraveling, you'll know that you
have us. We are willing to help in whatever way you need.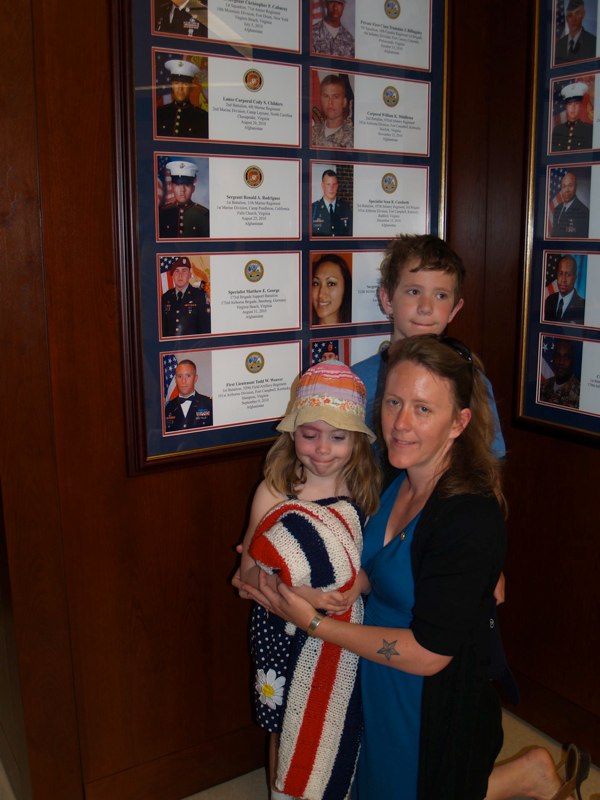 Pictured: Adrianna (and her two children Finn and Astrid), sister of 1Lt Todd William Weaver, killed in Afghanistan on September 9, 2010
Weaver family members were presented with a prayer shawl from Prayer Shawls 4 Fallen Soliders
Photo taken at Richmond VA State Veterans and Memorial Gardens, Memorial Day 2013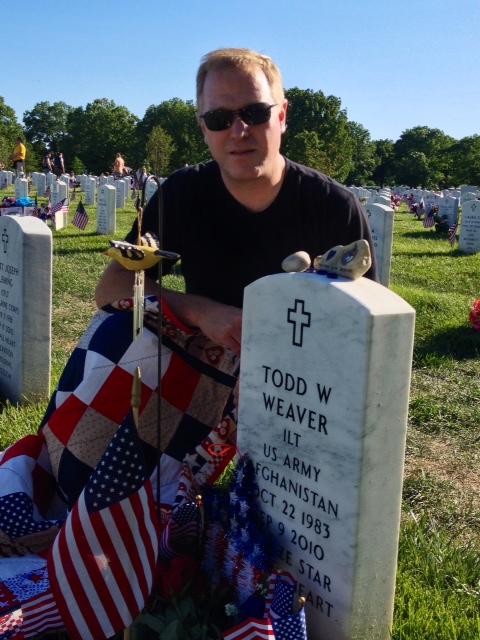 Pictured above Glenn Weaver, brother of Todd Weaver - with a prayer quilt - Arlington Cemetery
To learn more about Todd visit his family's tribute website: http://www.1lttoddweaver.org/1lttoddweaver.org/Welcome.html

Several years ago my son Matthew was killed in a car accident. After the accident something happened to me....I started to collect yarn.
I've been knitting since I was about 9 and then an aunt taught me to crochet when I was about 17. I've loved doing both ever since.....over 40 years now.
We've always lived in generous sized homes so it wasn't until we moved last July that I was forced to round up my herd of yarn and get it all together.
Oh boy, was I in for a shock. I had no idea just how much yarn I'd accumulated since Matt's accident. We moved to a much smaller home and
there just isn't enough room for all the yarn so recently I posted it on our local Freecycle site. I was overwhelmed with the amount of woman
who asked for some of it to be used in their prayer shawl groups. I'd never heard of these groups until now and woman that I've met so far
have been the nicest woman you'd ever want to know. I want to thank you both for the part that you've unknowingly played in helping me to
clear out my stash. Emotionally, I had to know that the yarn was going to be put to good use or I never would have been able to part with it.
It's taken me the past week just to sort it all out and bag it but it's turned out to be a labour of love that I am thoroughly enjoying.
Thank-you and blessings to you two dear ladies. Lyn C. - Ayr, Ontario, Canada - December 2012

"Janet and Vicky: I have composed this letter in my head so often yet words continue to fail me.

I started making prayer shawls in October, 2003. I had just moved my mother to an apartment and
while moving her I found a dresser drawer full of washcloths I had made. Every Christmas I would take a
couple hundred washcloths to my mothers side of the family. All my aunts and cousins would take them.
After I found my mother's stash I wondered if they really needed them or if they were just being nice!

The very next day I received a copy of a magazine I had never received before (or after). In it was an
article about the Prayer Shawl ministry. I went on-line and got your K3 P3 pattern, bought my first skeins
of yarn and made a shawl. It took me about 4 1/2 hours to make one. I wasn't sure I could stick with something
that took that long to make as I was used to making washcloths in 45 minutes! But I was desperate to find
something to knit other than washcloths.

Due to my weird way of knitting making items that require a gauge is difficult - I knit taller stitches than most people and
have to adjust patterns so things fit and it is always hit and miss with that! Knitting squares and rectangles works
every time! I went back for more yarn and made up some for my aunts for Christmas (as well as other family members). Before I knew
it I had a dozen made. I just kept knitting - initially thinking I would make 50 or so. I didn't think I knew more people
than that and wasn't sure what I would do with them.

As I was making them the words "unconditional love" kept coming to me and I realized I was to learn about love through
this ministry. I was to make them and let them go with no expectations of anything coming back to me. I also had to get over
my perfectionism hangups and not worry if they went to a "real knitter" that would judge my work.

Shortly after Christmas I started a group at the church I was going to at the time. We had a group of over 20 knitters in a short
time making shawls. We all started knitting during church services and more kept joining. The first year we gave over 400 shawls away
(this in a church of 120 members).

I started holding workshops for other churches in our area and helped get four other groups going. The more I knitted them, the faster I got.
I can now make one in about 3 1/2 hours! Over the last 9 years I have had several "distributors" - people that love to give them out.
Chaplains, Counselors, preachers, group leaders, etc. I have provided 145 to Cozette for the PS4FS program.

This week I made my 2,000 shawl!

I struggle to find the words to thank you for starting this ministry. Making shawls has changed my life! I have learned
about love through making and giving shawls - the more I give the more I get back - especially when I give without
expectations of anything being returned.

Shawls fit every occasion - happy or sad and everything in between! They are
the perfect gift! I can't count the number of people that after they receive one for themselves call me to see if they
can have another one because they have a friend that really needs one. Many times the person who was given one just
had to give their's to someone else and then they find they miss their own and call to see if they can get it replaced.

I have met people that otherwise I would never have met. Several have become really good friends.

I have become an energy healer - graduating last year from a three year program at Core Star Energy Healing School
in Kansas City. I started that program because of the number of people that said they could feel the love in the shawls
they were given and I wanted to find out how that happened! I had a hospital chaplain tell me that she used the shawls
I gave her for her really hard cases - she would try all the tricks in her book to calm an anxious patient or family member and
when nothing else worked she would put one of my shawls around them. She said the shawls never failed to help her be able
to calm the patient down and they would be able to breathe again!

I hold both of you in much love and light and with much gratitude for all you have done to change my life!"

Much love,
Kay S.
Emporia, KS
August 2012

My daughter Katie was born on August 31 of this year (2011). At the time of her birth we learned quite quickly she had a
heart condition that required a heart transplant. We were so fortunate that Katie was the recipient of a donor heart at 3 1/2 weeks of age.
Even thinking about it now it seems unbelievable that we've been through this experience.
She is home now and fully recovered from her surgery and is doing quite well.

I'm writing to you because my friends Paul and Beau attend the St. Nicholas United Methodist Church.
At one of the services they asked for the members to pray for her recovery. Today they presented me with a prayer shawl they received from one of the members.

I want to thank you and your community for all your prayers. With all the friends and family and people we have never met thinking of us we know that has made Katie's recovery that much better.

Katie continues to amaze us with her strength. I've included a picture. I want to pass on our gratitude. It has been felt by us for sure. Eric J.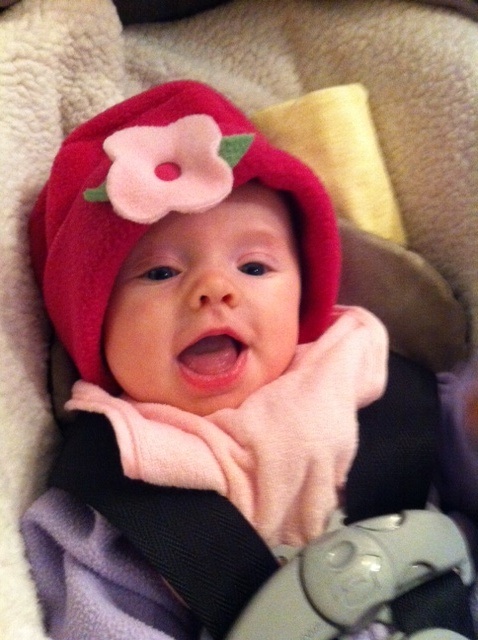 I was in the hospital, recuperating from emergency surgery to remove scar tissue from an earlier operation.

It was the day after Thanksgiving, and everyone I knew seemed to be out of town.

My college-age daughter was in and out, but she had a paper to write and final exams to study for.

The church office was closed, as was my workplace. No one was there to retrieve

the voice mail messages my daughter had left. Although I didn't feel like having visitors,

I wished someone would call to check on me. A prayer shawl would have been a wonderful comfort

as I lay in my hospital bed. At the time, I had never heard of prayer shawls and

I didn't know how to knit. That came several years later. Now, I am privileged to be a part of my

church's new prayer shawl ministry. As I knit, I pray that whoever receives the shawl will feel

less alone; whether they are hospitalized, ill at home, or bereaved. Lynn A.


     




My Journey

Dearest God,

My journey in life is taking me many places, most are by choice, but some I would not have chosen to go.

As I face this difficult part of that road I am on, help me to look to the positive each day. Let me recognize the blessings

that fall into my path and help me to turn the "bad to the good". Raise me up every day to find the faith I have in you and

point me into the direction of hope

I will look at this gift of a shawl- with the yarns all intermingled and crossed over - and have it remind me of the people who have crossed

my life's pattern. I will remember that this shawl was once a ball of yarn with no definite shape, and it was taken to a new level

with someone creatively making a magnificent mantle of it to drape around my soul and embrace me. I know it is filled with love and prayers for me.

As I go through the ups and downs that fall before me on this journey, I know I am not alone. I know God; it is you who is

walking besides me and holding me up when I don't have the ability to do it for myself. You are my greatest resource on

this path called Life. Help me to become refreshed with every sunrise and to look to the future with great hope at each sunset.

I believe this journey will take me where you want me to go and I will count my many blessings often. Thank you.

Amen

Composed by Wendy Paffenroth-2011

First Presbyterian Church, Goshen NY – Prayer Shawl Ministry




 
    






In August 2005, my husband and I survived a tornado in Stoughton, Wisconsin. Our home did not. The first weeks passed in a blur of activity made so much easier by the people who came and stood with us, and dug through what was left, looking for anything that could be saved, and there wasn't a whole lot! I am a knitter, and some of the first gifts that came to me were knitting needles and yarn, as people knew I never go anywhere without a knitting bag on my arm. Before Christmas that year, a lovely lady named Janet presented me with a beautiful shawl she had knit for me, and included a note in the box about the ministry. It is a beautiful gift made more precious knowing that she prayed for me as she knit it. I have a young grand-daughter who loves to curl up on the couch and wrap it around herself, the only stipulation being she has to treat it lovingly and put it back where she found it. What a great ministry! Annette Klingaman

About a little over a year ago, I decided to crochet a prayer shawl for a friend who was looking forward to her 50th wedding anniversary. I had been inspired by the book A Prayer Shawl Companion although the pattern and suggested choice of yarn came from Cindy Crandall-Frazier's book Contemplative Crochet. My friend is very devoted to her faith tradition so I made an extra effort to crochet many prayers and loving thoughts into her shawl. The shawl was a success. The second shawl I made was less satisfactory in my eyes. While the yarn was soft and a pretty color (muted variations of blue-green), I found out the hard way that I do not like working with chunky yarn. It became a source of great frustration and ill temper on my part and I hesitated to give it away. I found a prayer shawl ministry in my neighborhood and the members pronounced it beautiful when I gave it to them, It was far from "beautiful" in my eyes but I trusted the opinion of the ladies and hope the shawl found its way to the appropriate recipient. The next shawl was a knitted experiment and, as it happened, my next door neighbor was taken ill very suddenly and became very frail. Of course I gave her the shawl and several months later she died. I'm so happy I was able to offer some small comfort as she had no family. But the real surprise came today when I gave a fourth shawl to a friend who lost her son a few months ago. I kind of knew that her favorite color was blue and I was drawn to the Victory and Cheer pattern in the Crocheted Prayer Shawl Companion. I had fun making that daisies and lo and behold, they turned out to be her favorite flower! Two prayer shawls for people with a connection to a firm faith tradition and two who (as far as I know) have no church or temple affiliation. But the person who observed that the shawl finds its own recipient is correct. I've started a pale green crocheted shawl mainly to try a new stitch. In the back of my mind I've kind of earmarked for myself but I have a feeling that someone else is bound to come into my life who will appreciate a warm and comforting "hug". Many thanks for your inspiration. June 2011 - Pat Lopresti ~ Portland OR

 
    

"I just really want to share a story about the best Christmas present of the year. As you know, I make Prayer Shawls

as a representative of your Prayer Shawl Ministry and have recently had my name added to a list of 

contacts for Dixon, IL. This story starts in the cornfields of Illinois and a 12 year old boy working those fields detassling corn.

With the money he earned, knowing how much I enjoy making shawls for others, he bought me 3 skeins of yarn.

each a different color. Now in my heart, I knew he bought these for me to make a Prayer Shawl because he knows how much

it means to me to be able to make the shawls for people. Not really knowing that it takes more than 3 skeins of yarn. 

Through his gift of yarn he was reaching out to share his heart with others who need our prayers.

Bless his heart but, since there were 3 different colors of yarn and not enough to make a Prayer Shawl. I needed to 

think of a way for him to share his heart.

Through his hard work, generosity and gift, along with my talents together we are making Prayer Hats

for the neonatal intensive care unit/oncology department for a local hospital.

I have made about 10 hats so far and when I get a few more done. 

We will take them together to the hospital to donate them.... As I crocheted these tiny hats 

I wove the love of a 12 year old boy and his grandma into each stitch and whispered prayers

 of hope for those who they are intended for.... The hard work and caring heart of a 12 year old 

turned into a way to make a difference in the lives of those he will never meet but will always feel in his heart

as children he reached out and touched with his heart..

The Prayer Hats came about because of my involvement with the Prayer Shawl Ministry and

will definitely touch the heart and lives of those who will receive them. I will have a note attached to each precious 

hat that tells the story of Joshua's heart and will include the Prayer Shawl Ministry web address."

Teresa (Teri) Jahn Heart to Heart Ministry.....Dixon, Illinois

This story come from a 'string' of emails, that we feel, tells a beautiful story. Prayer shawl makers often say to us 

that as they create prayer shawls, through prayer and meditation they are sometimes offered 'whisperings'.

Ideas and insights that come to mind as they pray the shawls into being.

Here is an amazing story from Ann Goodwin of Lake Chapala, Mexico and her friends Bill and Janet.

In Ann's email she writes; " Hi Bill, Thank you for the update on Janet. Glad to hear how well she is coming along.

Michael and I have prayed for Janet all week while I knitted. I woke up early Monday morning and 

I believe God said that I must make this shawl for Janet. It was finished at 11:40pm last night. 

The strangest thing, kept happening, the name 'Mary' kept popping into my head when I was 

praying for Janet.. Is there anyone in either of your families named Mary. Maybe it was Mary, 

Mother of Jesus, who was around. I can't explain it. Attached is a poem/prayer written by a 

member of a shawl ministry. If you go to www.shawlministry.com you will find other prayers and 

stories of inspiration."

In Bill reply email he writes; "Dear Ann, Thank you, thank you, thank you. Mary is the name of Janet's Godmother/favourite aunt.

 Her Aunt Mary had the same problem as Janet. She had her aortic valve repaired by surgery about 55 years ago.

 Janet's Aunt Mary passed away about 25 years ago. Janet was thinking of Mary before and after her (Janet's) surgery,

 i.e., during the period that you were knitting the shawl. When Janet read your e-mail today, she immediately

 telephoned her parents in Montreal to tell them of your experience. They are convinced that it was 

their Mary whose name your were receiving. Janet was very touched by what you have done. It appears as 

though you were guided in a number of ways - the colour is Janet's favourite. She has asked me to tell you 

how grateful she is for your kindness and your effort and the prayers offered by you and Michael. 

Your ministry has meaning. Thank you for bringing it to St. Andrew's. Bill and Janet"

 




Written By: Kim

Hi, I am a lovely and oh so soft, lavender Prayer Shawl, knit by the wonderful hands of Melinda Rucinski, earlier in the year. 

I was blessed and then put in a storage tub with other shawls, waiting to be given to someone in need of our special warmth

 and prayers. I waited and waited to be taken out again, but no, here I stayed as other shawls came and went. Why wasn't 

I being chosen I asked over and over? The hands that made me and the others who knit pondered the same thing. 
All year long I waited and waited, then, finally on December 22, I was picked and I was so happy! Kim received a phone call 

from Anita (the owner of Studio Knit). Anita had been contacted by Debbie, who was looking for a prayer shawl for her 

mother-in-law (Nancy); who was in Hospice with congestive heart failure. Anita knew that Kim was a knitter, and asked if she

 knew any one who knit prayer shawls; Kim told her YES, St Paul 's had a Prayer Shawl Ministry, and they were meeting that very evening. 
Anita was given the church's phone number to pass on to Debbie. Shortly there after, Fr. Eric called Kim

 and asked her to call Annie (Debbie's sister-in-law) in order to arrange for her to pick up a shawl; she did so, 

and invited her to come pick a shawl for Nancy . When Annie arrived, the completed shawls were laid out, 

and it was suggested that she sit and hold each one, to find the one that would be right for Nancy . Annie did so, 

and kept returning to Me; she said that I felt the most comforting. It was suggested that she, also, pick out

 pocket shawls for members of the family, and after she had done so, the Happy Clickers joined hands in

 a circle of prayer with Annie and me; the lavender shawl. After Annie left, the ladies then, knew why I had

 remained un-chosen for so long, I was just waiting for the right person to comfort. The Clickers have since 

learned that Mrs. Lowry, went to join her Lord on Thursday, December 24th. They pray that I will continue to 

comfort Mrs. Lowry's family of 4 sons and a daughter, spouses and numerous grandchildren and great grandchildren.

Blessings, The Lavender Shawl 

December 2009 - In 2006, my mother-in-law was diagnosed with cancer and my father-in-law went into kidney failure. 

My husband and I decided to leave my mother, four brothers, and five sisters and their families and move back to his 

hometown near his folks. In two weeks, were three states away with our two little girls.  Six weeks later, 

my big brother, Mark, was killed in a farm accident when he got caught in a round baler. His funeral was 

ten years to the day that one of my middle brothers drowned at 17. He was more than a brother to us. 

Our dad was abusive, and shortly after the birth of her eleventh child, our brave mother finally left Dad to keep us safe. 

Mark became like a dad to us, and we thought of him as our "rock." My husband and I returned to our new home with numb hearts.

We had been wanting another baby, so I was glad to learn I was pregnant a month later. But I hadn't realized how stressed 

my body was, and my pregnancy was very exhausting. My mother soon came to visit, and brought with her a lovely 

peach prayer shawl given to her by St. Agnes Knitting Circle. Mom gave the shawl to me because she knew how especially

 close I was to Mark and thought I deserved it the most. That winter I spent many hours sitting my rocker with my shawl, 

slowly healing from my grief. I felt so numb, yet the softness of the yarn against my skin always reminded me of life and joy.

(We had a little boy later in the Spring.)

Now folks are better, and we are moving back home at the end of this week. In packing, I found the card that came

 with the shawl, and having internet now, I decided to learn more about this ministry. 

Thank you for reaching out to grieving people like our family.
Molly Nightingale

Wednesday April 8th, 2009

98-year-old Maria D'Antuono 

survived the L'Aquila earthquake in her hometown of Tempera, Italy. 

She was determined to stay alive and in her time spent "doing crochet".

She was trapped more than 30 hours buried under her bed.

The 12 Days of the Prayer Shawl Ministry's Christmas

On the first day of Christmas my PSM gave to me one community project times 3
On the second day of Christmas my PSM gave to me two knit toy bears
On the third day of Christmas my PSM gave to me three pairs of socks
On the fourth day of Christmas my PSM gave to me four baby caps
On the fifth day of Christmas my PSM gave to me five crocheted rings
On the sixth day of Christmas my PSM gave to me six needles clacking
On the seventh day of Christmas my PSM gave to me seven coupons clipping
On the eighth day of Christmas my PSM gave to me eight balls a winding
On the ninth day of Christmas my PSM gave to me nine ladies laughing
On the tenth day of Christmas my PSM gave to me ten patterns flying
On the eleventh day of Christmas my PSM gave to me eleven rows a 'ripping
On the twelfth day of Christmas my PSM gave to me twelve projects finished

Written by: Pat Jones - Prayer Shawl Ministry at Unity Church Centre Girard, OH
Dedicated to their 'greatest champion' Rev. Ric Schumacher


I received my shawl upon the passing of our son... Once a person learns of the shawls healing strength, 

they are driven to knit one as pass on this joyous healing to another. I have found purpose in knitting in the "bleeps" 

that are found in yarn. I leave those "flaws" in place and knit them right into the garment, then I point them out 

to the recipient and remind him/her that those "bumps" are a reminder to us of our lives. 

Often things run smooth and in tranquil comings and goings; however, there are those bumps in life, 

such as the experience for which the shawl was made. If we use our shawls, wrap ourselves in Gods Love, 

hold tight to His promises, things will become just like the well worn garment the shawl is meant to be. 

I use a larger needle to get a loose knit... 

that's so you can hold tight... 

poke your fingers in the small holes.. 

Place all your troubles and worries in those holes... 

Remember, with God's help, all things are possible!!

Jane Parsley ~ Andy's Mom

Yesterday I received my ' Prayer Shawl Companion ' book. What a very beautiful book. 

I recently gave a shawl I knitted to a friend. I asked her if it felt different than other shawls to use. 

On reflection she realized she kept it close by her all the time because of the comfort it gave her.

I understand that because that is how I feel about your book.  It too radiates the blessing in which it has been birthed. 

My home feels richer and warmer because of the light and hope reflected by each contributor.  I love it.

The wonderful gift of the shawls is how blessed are both the creator and receiver. 

Thank you to everybody who has been part of the process.

With loving appreciation Helen (Australia)

Friends invited me to officiate at a celebration in their home to bless their civil 
marriage. In preparation my husband and I took turns knitting a marriage prayer 
shawl. We knit it long enough so it could be wrapped it around the couple during 
the ceremony. The folded shawl which held our prayers, was passed among the 
people who added their words of blessing. The community blessings transformed a 
traditional Christian service into a radically inclusive one. Jewish friends offered 
Hebrew blessings, gay and straight couples added their hopes and prayers, old and 
young alike participated. As we wrapped the prayer shawl around the couple for the 
final blessing they could feel the love and prayers of everyone gathered there.

From: Lucy Brady - Westminster, MD

2008 - Earlier this year, a shawl ministry was started by members of our church, Shalom United Church of Christ, Richland WA, on Monday nights. 

At the announcement of the ministry, I had just ordered a book of the prayer shawl patterns, but hadn't received it yet. 

The book came, I was busy with other things on Monday nights and I never got involved with the ministry. 

Then in May, I got sick. I had a multi-drug resistant e-coli infection. The doctors found a drug that the e-coli responded to. 

The fevers were gone, but I still had pretty severe headaches. They decided to do a CT scan of my head. 

They found a mass. Then an MRI was done to determine if it was an abscess or tumor. It was a tumor. I was sent to Seattle. 

The doctors there treated the e-coli infection first, they didn't want to operate with the possibility of any other infections in the area.

A month later, in June, I returned to Seattle for the tumor removal. The surgery went well, the tumor was benign. Praise the Lord. 

The day before I left for Seattle for surgery, my friend Mary Lu, who started the prayer shawl ministry at our church, called and asked if she 

and John could come to visit us.  You see, Mary Lu had a shawl for me. It was knit with all the love and prayers of so many 

people in our congregation.  I wrapped the shawl about my shoulders, feeling the peace, love and comfort that 

only comes when you let go and let God take care of the things you cannot control.

The story doesn't end there. When I returned to visit my neurosurgeon for my follow-up in August, he diagnosed a bone infection 

and I had to return the following week to have a section of my skull removed. The shawl went with me and continued to comfort me. 

When I returned home, I had to receive antibiotics by infusion twice a day. I was basically immobilized for two hours, twice a day, 

while the medicine was pumped into my system. I decided to use that time to pass on the gift of a prayer shawl. 

It is crocheted with so much love and prayers and is going to go to a new mother in our congregation who had a baby 

who was born at 32 weeks, 5 days gestation. I know she has already received one shawl from our shawl ministry, 

but you can never have too many. Elliot is doing well, but he faces more than one heart surgery in the months ahead. 

I pray the shawl will bring comfort to the whole family.

Thank you for this ministry. You have started something that is spreading love and prayers 

throughout the world in a very tangible way.

Sincerely,
Donna Glass
Richland, WA

My Name is Yosrah Johnson and I am a sophomore at Northern Illinois University. On February 14, 2008 a sense of 

unspeakable violence occurred at my school. A man opened fire in my lecture hall killing five of my classmates and 

injuring dozens more. I was able to escape with some minor physical injuries but the emotional trauma is something I take

 with me everyday. While my school was in a state of grieving they opened up a place called the "Peace Room" where anyone

 can go and get away from everyday problems and reflect and pray. I myself has found the peace room to be very helpful. 

It is so nice to just find a nice quiet place to sit and write and pray. Well one day I go into to the peace room to find beautifully

 crocheted shawls. I read the note and prayer that came with the shawls and tears came to my eyes. This act of genuine kindness

 touched my heart and made me realize that love and kindness still exists in our world even when we feel like it is not out there. 

The prayer shawl honestly came when I was having a day where I thinking a lot about the tragedy and was having personal issues

 of my own. I would just like to thank everyone who put in their time and effort into making these beautiful prayer shawls 

you have touched someone today in more ways than one and I know these shawls are going to helps others too. 

Thank you for your prayers and blessings!

Forever grateful,

Yosrah Johnson
Northern Illinois University Student

 

 

 

 

 
For more photos visit our Shawl Photo Gallery
Check out our "In The News" web page!!!